---
Here's a list of recent changes/updates:
03.10.2019 19:39:20
new GRAND CENTRAL CD Deconstruction - live (2019) now available: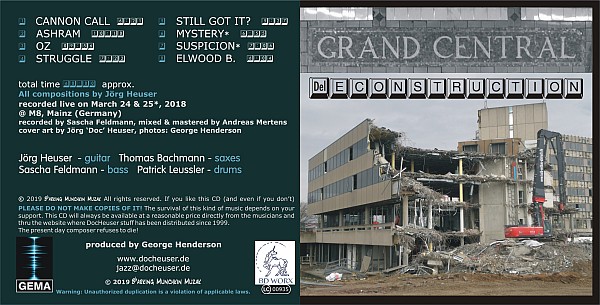 Audio-SAMPLES:

---
29.01.2018 18:35:02
NOW AVAILABLE:


Solo Transcriptions by Dr.Jörg Heuser, Ph.D.
Pat Martino - FORMIDABLE [High Note HCD 7307]
1. El Niño (Joey Calderazzo) p. 1
2. Hipsippy Blues (Hank Mobley) p. 5
3. Homage (Adam Niewood) p. 9
4. Duke Ellington's Sound Of Love (Charles Mingus) p. 14
5. El Hombre (Pat Azzara) p. 21
6. In Your Own Sweet Way (Dave Brubeck) p. 30
7. Nightwings (Pat Azzara) p. 37
8. In A Sentimental Mood (Duke Ellington) p. 42
8. On The Stairs (Pat Azzara) p. 50
Total number of pages: 53

---
08.02.2017 07:03:43
NEW: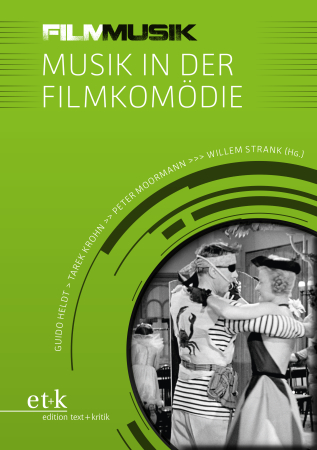 FilmMusik
Herausgegeben von Guido Heldt, Tarek Krohn, Peter Moormann und Willem Strank

Band 3
Musik in der Filmkomödie

Inhaltsverzeichnis
- Vorwort
- Tarek Krohn: Überlegungen zum filmmusikalischen Gag
- Lindsay Carter: Das Leben ist freudiger geworden. Musik und Komödie im stalinistischen Kino
- Konstantin Jahn: "Who put the wit in syncopation?". Jazz als Signum von Satire, Parodie und Humor in Vaudeville-Film, Cartoon und TV-Comedy
- Jörg Heuser: Frank Zappa, "200 Motels". Weltenkollision
- Guido Heldt: Furchtbar lustig. Musik in Horrorkomödien
- Gesamtbibliografie
- Autorinnen und Autoren
- Herausgeber
- Register


Beschreibung
Humor ist ein schwieriges Thema, Humor und Musik noch mehr, aber in der Filmgeschichte ist ihre Verbindung zu wichtig, als dass sie weiterhin übersehen werden dürfte. Die Beiträge des neuen Bands der Reihe "FilmMusik" widmen sich den verschiedenen Aspekten dieses komplexen Themas.
Literatur zu Musik in Film, Fernsehen und Videospielen ist in den vergangenen 30 Jahren explosionsartig angewachsen. Dabei sind mehr und mehr Genres in den Blick der Forschung geraten: Western, Musicals, Thriller, Science-Fiction, Fantasy, Melodramen ... Auffällig durch ihre weitgehende Abwesenheit ist jedoch bislang die Filmkomödie, zentraler Bestandteil fast aller Filmkulturen der Welt. In filmwissenschaftlicher Forschung zur Filmkomödie kommt Musik kaum vor, ebenso wenig in Arbeiten zu Humortheorien, -geschichte oder -praxis; und auch die Filmmusikologie hat bis jetzt nicht viel, und noch weniger Grundsätzliches zur Filmkomödie zu sagen gewusst.
Der Band nimmt das Thema unter verschiedenen theoretischen Aspekten, musikalischen Idiomen, nationalen Traditionen und Gattungsperspektiven in den Blick. Die Beiträge befassen sich mit filmmusikalischen Gags, Jazz als Idiom für Satire und Parodie in Film- und Fernsehgeschichte, Frank Zappas und Tony Palmers "200 Motels", Musik und Komödie im stalinistischen Kino und zu Musik in Horrorkomödien.

---
16.05.2016 08:12:57
NEW transcription book!: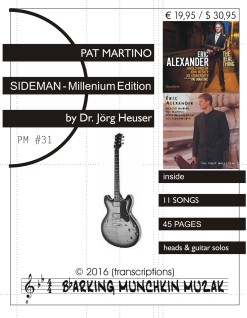 BUY PDF download:
---
20.12.2015 11:56:35
new PDFs:

BL#1 - Biréli Lagrène - Guitar Solos PDF download
(€ 9,95 = about $11.50) PM#6 - Pat Martino - EL HOMBRE PDF download
(€ 9,95 = about $11.50)
WM#4 - Wes Montgomery - Smokin' At The Half Note PDF download
(€ 19,95 = about $22.50)
---
04.08.2015 08:45:42
GRANDSHEIKS feat. Napoleon Murphy Brock-Tour October 2015:

---
07.05.2015 20:17:33
AVAILABLE MAY 15!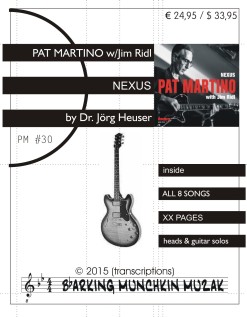 Solo Transcriptions by Dr.Jörg Heuser, Ph.D.
Pat Martino w/Jim Ridl: NEXUS [High Note HCD 7274]
1. Recollection (Pat Martino) p. 1
2. Tenetree (Pat Martino) p. 9
3. Sun On My Hands (Jim Ridl) p. 13
4. The Phineas Trane (Harold Mabern) p. 17
5. Country Road (Pat Martino) p. 25
6. Interchange (Pat Martino) p. 29
7. Oleo (Sonny Rollins) p. 36
8. Naima (John Coltrane) p. 46
Total number of pages: 50
---
17.03.2015 11:30:38
Available March 17:
new PAT MARTINO-CD: NEXUS w/Jim Ridl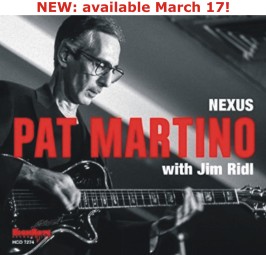 1. Recollection
2. Tenetree
3. Sun On My Hands
4. The Phineas Trane
5. Country Road
6. Interchange
7. Oleo
8. Naima

---
22.12.2014 20:55:56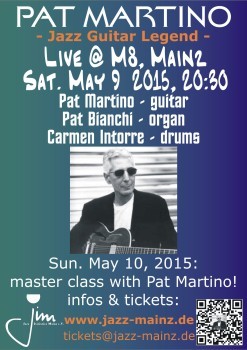 KONZERTTICKETS
oder direkt über PAYPAL:

MASTER CLASS
---
27.06.2014 13:27:56
now available: